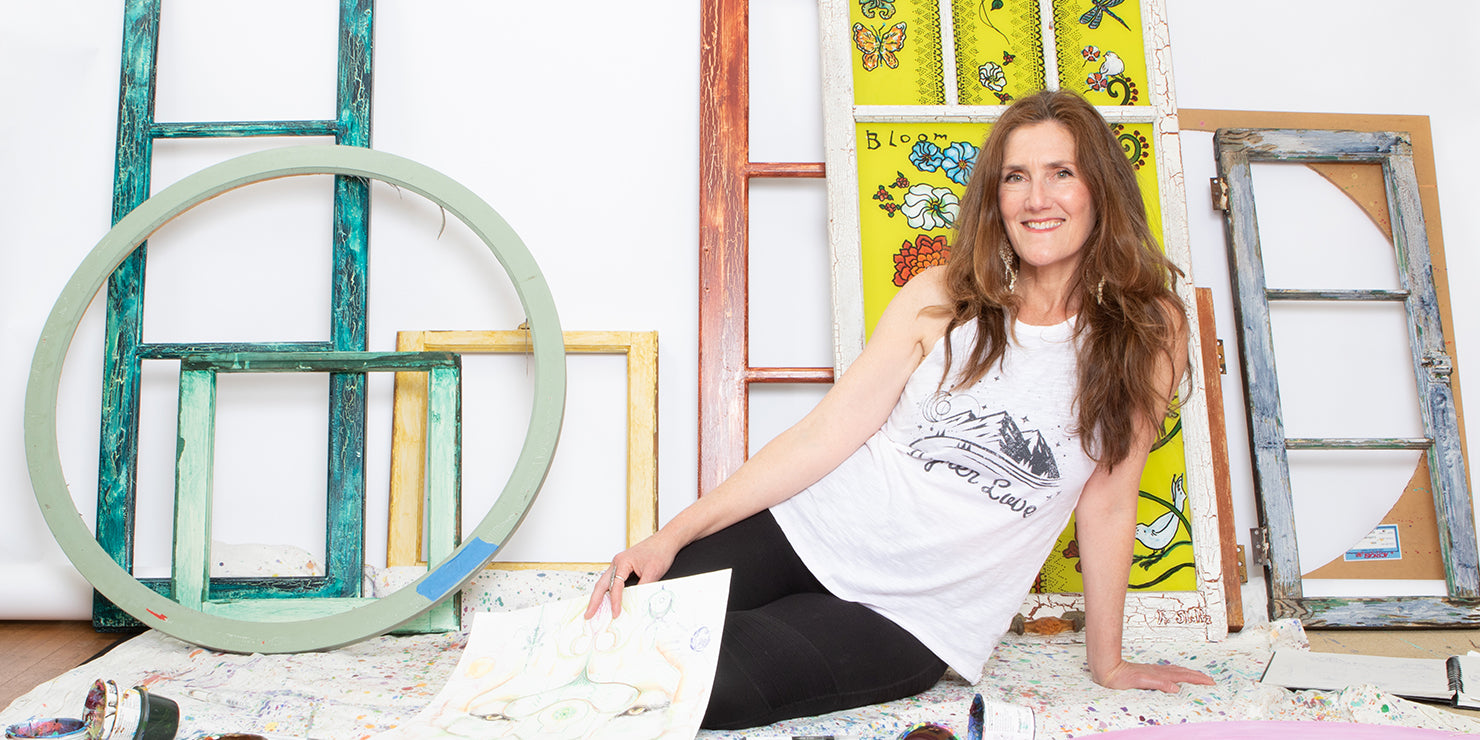 ABOUT
I was born in Los Angeles into a family of artists and at a very young age I saw my parents happy at work making art a way of life.
"Our house was always buzzing with creativity. Many rooms in the house were devoted to the process of making art and the doors to those rooms were never closed. It was an environment ripe to inspire my young mind and fingertips."
In my early studies I explored Art and Art History at Santa Monica Jr. College and in my last year I was awarded the mentorship scholarship to the San Francisco Art Institute. I used my time there to pursue my interest in sculpture, mixed media and installation art before coming back home to painting, my true love. While still in school, learning to paint in more traditional mediums, I was inspired by my fathers work in the medium of Reverse Acrylic Painting. I began to explore this technique in my own work. I loved it immediately for its ability to translate color so vibrantly.
In 2005, after 5 years of painting in this reverse medium, I went to Brazil for healing and inspiration. It was here that the seed was planted for what would lead to a deep and permanent shift in my approach to my Artwork. The beauty and the spirit of the people I met, the music and dance I experienced, the immersion into nature traveling into the Amazon at a spiritually transformative time in my life allowed for a powerful breakthrough. I came back home and began using a physically dynamic approach to reverse painting. I began to throw and pour paint onto the plexiglas.
Splashing and pouring and coloring way further outside the lines than I had let myself before, I began to also explore how to create translucent wet layers onto the plexiglas surface. I began to move my wrist rhythmically while holding my brush like a drumstick and gently beating it onto the surface to create some of the background brushwork.
This new approach showed me I could create a realm of palpable space and depth I hadn't been able to before on this plexiglas surface. I discovered I could access the energy in different parts of my body that wasn't being activated by sitting in a chair while painting. I look back at this moment in my creative journey as a moment I saw the LIGHT both metaphorically and literally in my artwork. LEARN MORE about my process.
In 2010, I started a practice of meditation that began a course of study which would eventually lead me to become a teacher and workshop leader. In these workshops I combine my skills as a painter and an arts healer to help guide others to tap into their creative potential. EXPLORE MY CLASSES if you are ready to awaken your creativity.
My paintings are in numerous private collections and can be seen in galleries and Art Festivals throughout the United States. Please come by a LOCAL SHOW to check out my work in person and say 'Hello' or head over to the ON YOUR WALL gallery to see a selection of my work in collector's homes.
"I am endlessly grateful to have

a devoted following of art lovers who enthusiastically collect my work."

 

CHECK OUT WHAT MY COLLECTORS ARE SAYING
"Rachel Shultz's art radiates pure JOY! Her choice of subjects and colors and attention to detail is shown in all her creations. I am the happy owner of eight works of her art".

- Pam Small
---
"I've always loved Rachels' work, especially the moons that contain so much energy within such a serene shape. The colors are so beautiful together and change with the light of day to create a bit of magic. When I saw her small artists' prints I knew I had to have one.
 We live in a tiny home so everything we bring in must be carefully chosen. We have chosen the perfect spot where it will live, next to 2 pieces of her mothers' that we are fortunate enough to own as well. This little corner of our nest will make us happy every time we look at it".
- Dori Gladden
---
"Rachels Art-joy is contagious! Her art is bright and joyful. I hung her two pieces right at the corner of my rustic cabin. I put them where my daughter sleeps because she's a bundle of joy and she loves them. Her art brightens up our place beautifully!"
- Arthur Franklin
---
"I've always been told you should buy art that speaks to you and, with Rachel, I've found an artist that speaks to me! There are so many pieces in her collection that call out to me, I had a hard time finding 'the one'."
-
Amy Zwagerman